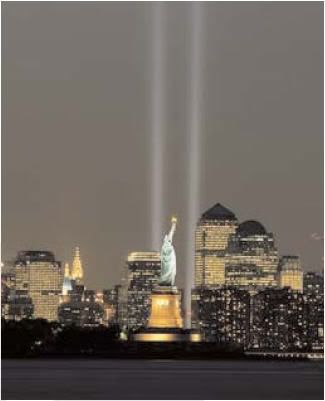 As 9/11 comes every year since 2001 I am reminded of God's mercy as He called me to a deeper place of hope and faith.
While the event is horrible and tragic it stirs hope in me. I sometimes feel guilty for feeling good about something that was so horrible. Often journeys in faith are just that: tragic and beautiful. Death and life giving at the same time! As the day comes I ponder who I use to be and am thankful for who I have become. It was an event that brought my life into clearer focus.
I worked full-time at a center that served families and individuals with disabilities. I loved my work and was very successful. I enjoyed creating opportunities for independence in individuals lives. Whether it was teaching someone who had a stroke to type with one hand, or prescribing alternative communication devices for individuals with limited-to-no speech, or teaching a care-taker to make the environment more accessible... I felt needed and empowered to make change in others lives for the sake of independence. I had this quote on my desk as a sign of my faith but also to be hope for those with disabilities I served.
... but we also glory in tribulations, knowing that tribulation produces perseverance; 4 and perseverance, character; and character, hope. 5 Now hope does not disappoint, because the love of God has been poured out in our hearts by the Holy Spirit who was given to us. (Romans 5:1-5, New King James Version)
The disabilities and individuals were so varied through the years but I LOVED my work; I loved my clients; I loved showing them a different way to do life. I loved advocating and educating people whose lives were not effected by disability; grateful to show them the possibilities technology could provide. Simple or complex, the possibilities were endless. Major bonus, my employer valued family and afforded me the opportunity to work some from home so I could pick my children up from school and be "home" with them in the afternoon.
I was living my life with my family, very involved in church. I worked full-time; went to school full-time; was a wife and mother that was absolutely overwhelmed. But happy, God was good! My son was in the first grade for the second time and my daughter was in a gifted-magnet middle school.
My son was diagnosed ADHD, sensory-integration dysfunction, or just-a-typical-boy depending on whose opinion you sought. He was on medication to make him "tolerable" to the teachers in his school. He still got in trouble despite the medication. I do not fault the teachers-but it is a poor system for individuals like my son. I remember taking time to visit him at school and I was devastated as I met him for lunch and he was on "silent lunch" for getting in trouble. (side note: let's take a kid that is struggling with talking and walking and being fidgety and let's punish him by making him silent-unsuccessfully I might add--I never "got it") I felt like the system was ruining him. He is one of the sweetest boys you'll ever meet. He is thoughtful, courteous, respectful, hilarious, and a joy. Yet, day after day, week after week his self-esteem was being pummeled.
My daughter was always a gifted honor student, teacher's pet, perfect child. Always a star! Yet, she went to a school where the put all the stars in one place and she didn't seem as bright as she always did. She was, but she began to doubt. Her self-esteem was waning. She was met with teasing for being so tiny; they called her anorexic. Our Christian values were challenged with the environment of middle school and especially school dances. I could not believe when I went to observe the dance that the music that was entirely inappropriate for middle schoolers (adults really). I am no ridiculous prude but it was seriously inappropriate! I wrote the principal about the music at the dance and lack of supervision but to no avail. My daughter became a cheerleader-surely that would boost her self-esteem. Nope, mean girls and competition and now balancing that with making good grades. It was too much for a precious young girl.
I knew my kids were awesome and I watched as they were being assaulted by all sorts of "wrongs". I felt
hopeless
to do anything about it. My amazing husband and I weren't making it on two incomes so no way would we make it on one. We lived in an apartment for low-income families. Had one mini van with no air conditioning. My hubby walked my son to school then rode the bus to work. He loved riding the bus because he could read his bible the whole way. It sounds like a hard life but it was a good life! God was working, moving, drawing us deep into Himself. I knew there had to be a different way though. I knew I felt trapped, burdened, weighed down and powerless to help myself, let alone my children, with their struggles.
Then I watched as America's security was shaken.
We were violated. Plane One... Plane Two... Crashing Towers... The Pentagon...Flight 93...Let's Roll... It was too much! All I valued came into question.
What was going to matter if I had no more tomorrows?
What was going to matter...?
It became an urgent pondering.
Was it going to matter
...that I was great at my job but failed my kids... That I had an education but my kids paid for it. That I could not serve my husband because I was too tired and he could take care of himself. I was not at all the person I wanted to be; more importantly who I felt God wanted me to be.
God got my attention. With those acts of terrorism so fresh on my mind I knew my life had to change for the better.
But seek first the kingdom of God and His righteousness, and all these things shall be added to you. Matthew 6:33.
God began a serious assault of truth in my life, messages, sermons, bible studies, people (I would believe to be directly aimed at me) that got my attention. I knew I needed to leave my job and home-school my son. How would we do that? I had no idea but I knew God was calling me to do it and any other choice was
disobedience.
I finally had "the" conversation with my husband... would he flip? Freak? tell me no? NO! He honored and obeyed God. We didn't know anything other that we were following God! We couldn't sit down and show on paper that it would be okay financially. It actually was like I said we weren't making it on two incomes and now we would cut that in half. I also carried the benefits. We would have to do without those. We would have to trust God.
As I walked of this cliff of
faith
... Into the great unknown... Would we fail miserably and look foolish...
God gave me this verse which was a promise I clung to:


25 "Therefore I say to you, do not worry about your life, what you will eat or what you will drink; nor about your body, what you will put on. Is not life more than food and the body more than clothing? 26 Look at the birds of the air, for they neither sow nor reap nor gather into barns; yet your heavenly Father feeds them. Are you not of more value than they? 27 Which of you by worrying can add one cubit to his stature?
28 "So why do you worry about clothing? Consider the lilies of the field, how they grow: they neither toil nor spin; 29 and yet I say to you that even Solomon in all his glory was not arrayed like one of these. 30 Now if God so clothes the grass of the field, which today is, and tomorrow is thrown into the oven, will He not much more clothe you, O you of little faith?
31 "Therefore do not worry, saying, 'What shall we eat?' or 'What shall we drink?' or 'What shall we wear?' 32 For after all these things the Gentiles seek. For your heavenly Father knows that you need all these things. 33 But seek first the kingdom of God and His righteousness, and all these things shall be added to you. 34 Therefore do not worry about tomorrow, for tomorrow will worry about its own things. Sufficient for the day is its own trouble. (Matthew 6:25-34, New King James Version)
I can say we thought we would have to make serious sacrifices. Cutting everything extra (not like we really had extras to begin with). But low and behold two months into it very little had changed-except ME and my children and hubby. God provided in miraculous ways. It was amazing what just staying home saved us! Time with my children, time spent in prayer and truly getting to know the ins and outs of those little ones! Who weren't so little! You may have noticed I was only going to homeschool my son, I figured my daughter wouldn't go for it-but God did it! She wanted to be homeschooled too! It was amazing!
I can say now with confidence that a school-system in not what God designed for my children's success, that is what FAMILY is for. It is a parent's choice as to the kind of education that works for their families. I am just glad we have the opportunity to home school.
I had always said I would leave my job when/if Trent got a better job. Well, little did I know God had a different plan that involved growing my
hope and faith!
My husband got a better job through miraculous circumstances. God IS faithful! The job provided a company vehicle. We were graciously given a suburban by Trent's father and that served us well in the youth department. I could tell you a million other tales of craziness that God did!
Many years have passed and
God's faithfulness is
EVER PRESENT
!!! We now have our own business and live in a nice house and things I could never have imagined would actually happen as I hoped for a better future.
I am sorry for the loss of life. However, I am forever grateful for the hope and faith God gave me through that time of National tragedy. It's a testimony of God's faithfulness, thank you for listening.
Image Copywrite:
http://massfatality.dna.gov/rawmedia_repository/ae1158cf_ec4f_464f_ac6b_054b0e8a26b4